The problem of poor needy children is gigantic. There is a need to secure the future of our children with the best possible choices. We also need to keep building our efforts to offer our children better competitive advantages.
With the help and support of donors, well wishers & members and careful planning by management,Balgran Jammu is trying to do better and better.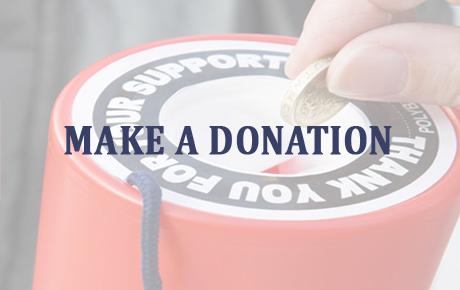 1. Annual Audit and Income Tax:
M/s R.C. Gupta & Co. Chartered Accountants have been rendering honorary Income Tax Consultancy services to BALGRAN Charitable Trust, Channi Rama, Jammu since its inception. The firm is rendering honorary services through Sh. Sourav Mehta, Chartered Accountant at present.
Sh. Vijay Gupta, Chartered Accountant of M/s Vijaya Gupta & Co., Chartered Accountants have been rendering honorary Audit services to BALGRAN - A Charitable Home for Destitute Children, Channi Rama,Jammu since its inception.
2. GRANT IN AID:
Department of Social Welfare, Govt. of J&K, provides yearly Grant-in-aid to the Home. The amount of Grant-in-aid varies from year to year. However Rs 10 Lacs Grant- in - Aid was released by the department for the year 2022-23
3. Governor House:
The Governor House has been providing assistance to the Home every year. This year Rs. 1.5 lacs Grant- in Aid was released
4. BALGRAN CHARITABLE TRUST:
The Trust takes care new construction Higher Education, marriage of girl inmates and medical treatment of inmates, if reqd, rehabilitation and new construction. An amount of Rs.8 Lacs ware released to BALGRAN during 2022-23.

Donations:
Our donors help us by donating monetarily as well as in kind to run the Home.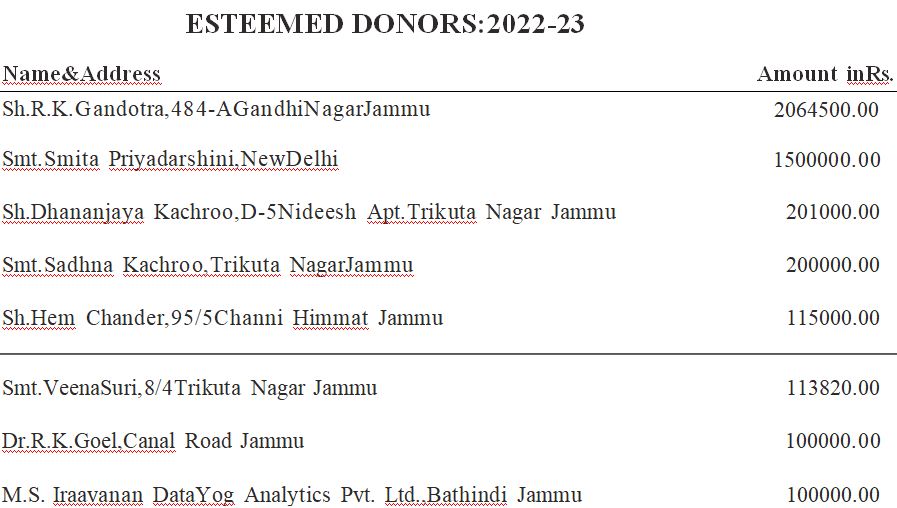 As a donor, your contribution will support the upkeep of the children village and thereby provide our children with a healthy and green environment. You can support monetarily or in kind or for the following requirements.
Donate for Construction work
Equipping Home
Equipping Children Health Centre and Dental Section
Equipping Vocational Centre.
Equipping Computer Centres.
Equipping Bal Bharti Public School.
Marriage of Girl Child.
Higher Education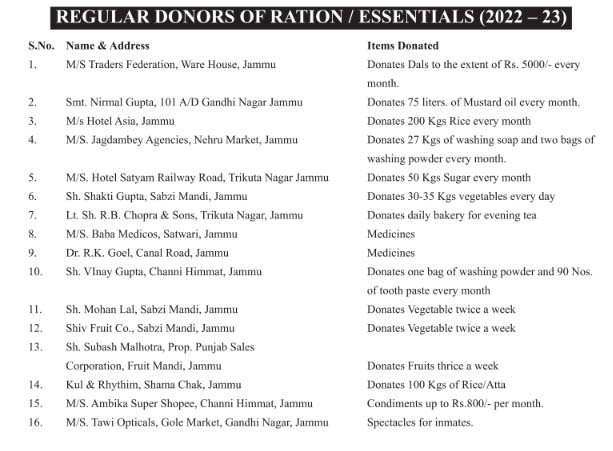 Donation of any amount can be made in favor of :
BALGRAN - A Charitable Home for Destitute Children Channi Rama, Jammu. 180015 under following bank accounts.
A.
State Bank of India, Railway Road Branch Jammu - 180015
Account No: 10026748781
IFSC CODE: SBIN0006894
B.
The Jammu & Kashmir Bank Ltd. Fruit Complex Branch, Narwal, Jammu, 180015
Account No: 0247040100012254
IFSC CODE: : JAKA0CHERRY
INCOME TAX DEPT. PROVIDES 50% EXEMPTION ON ALL DONATIONS U/S 80-G INCLUDING CASH UP TO RS. 2000/-.
(DONORS ARE REQUESTED TO PROVIDE PAN OR AADHAR NO. WHILE DONATING)